Adults and children love both flowers and sweets. A delicacy designed like a bouquet is originality and an unforgettable experience. You can not only enjoy the beauty of graceful buds and enjoy fresh berries, but also get health benefits. You might wonder why you should choose an edible bouquet as a gift. Well, there are many reasons behind it.
We all know everything about chocolate. It is tasty, makes you more active, kind and cheerful. Chocolate can be not only good for the heart, but also relieve stress. It is one of the best remedies for sadness and depression. And if you add strawberries to this useful product, you get an explosive combination of flavors and a lot of useful vitamins. Many people like the combination of chocolate and fresh berries. Fresh berries contain many vitamins and minerals needed by the body. Strawberries are not only tasty, but also healthy berries. Contains vitamins: A, P, PP, K, B2, trace elements - manganese, cobalt, calcium, sugars, acids, pectin, antioxidants. Strawberries give a good mood, cheerfulness, improves digestion, strengthens the immune system. Did you know that you can eat strawberries and chocolate on a diet? You can order a bouquet from us and give pleasure with vitamins.
No wonder, strawberries have become a favorite delicacy of lovers. These berries have long been a symbol of romance. A bouquet of strawberries can be a wonderful romantic gift to start the day. Such a surprise will give many exciting minutes. Breakfast for two, the delicate taste of strawberries and invigorating notes of chocolate will make your morning unique. A bouquet of chocolate-covered strawberries goes well with a glass of champagne and can be a great addition to both breakfast and dinner. Vivid emotions to the recipient of the gift, as well as to you, are provided.
Perhaps you are looking for a gift for your mother, sister or girlfriend? Our bouquets can be given to any person, regardless of gender and age, for any occasion. Such a gift will please absolutely everyone. Our sweet bouquet will leave no one indifferent. The aroma of strawberries in chocolate will conquer any heart. What could be better than chocolate covered strawberries? Juicy and sweet strawberries blend harmoniously with chocolate, which gently melts in your mouth and reveals a delicious filling. Beautifully decorated chocolate-covered strawberries make the perfect edible gift for any occasion.
Our masters brought to life the idea of combining ripe berries, fruits and sweets into unique bouquets. You can buy chocolate covered strawberries all year round. Quality products will bring aesthetic and taste pleasure. Indeed, for our bouquets, we buy only selected strawberries from trusted suppliers, and we will definitely taste them before buying. We will use only juicy and sweet berries in our bouquets. Creating berry and fruit compositions is an art. We make bouquets immediately before being sent to the customer. But if you need to give a bouquet at a certain time, then it is important to comply with all storage conditions and leave the bouquet in a cool place. These are works of art that do not allow you to take your eyes off, and the taste makes you forget about what is happening.
Such a bouquet will stop the moment and make you rethink your attitude to pleasure. It's impossible to describe! This is a must try!
The juiciness of the berry goes well with chocolate. The original design is suitable for a gift for any occasion. Here, everyone will find a gift corresponding to the celebration.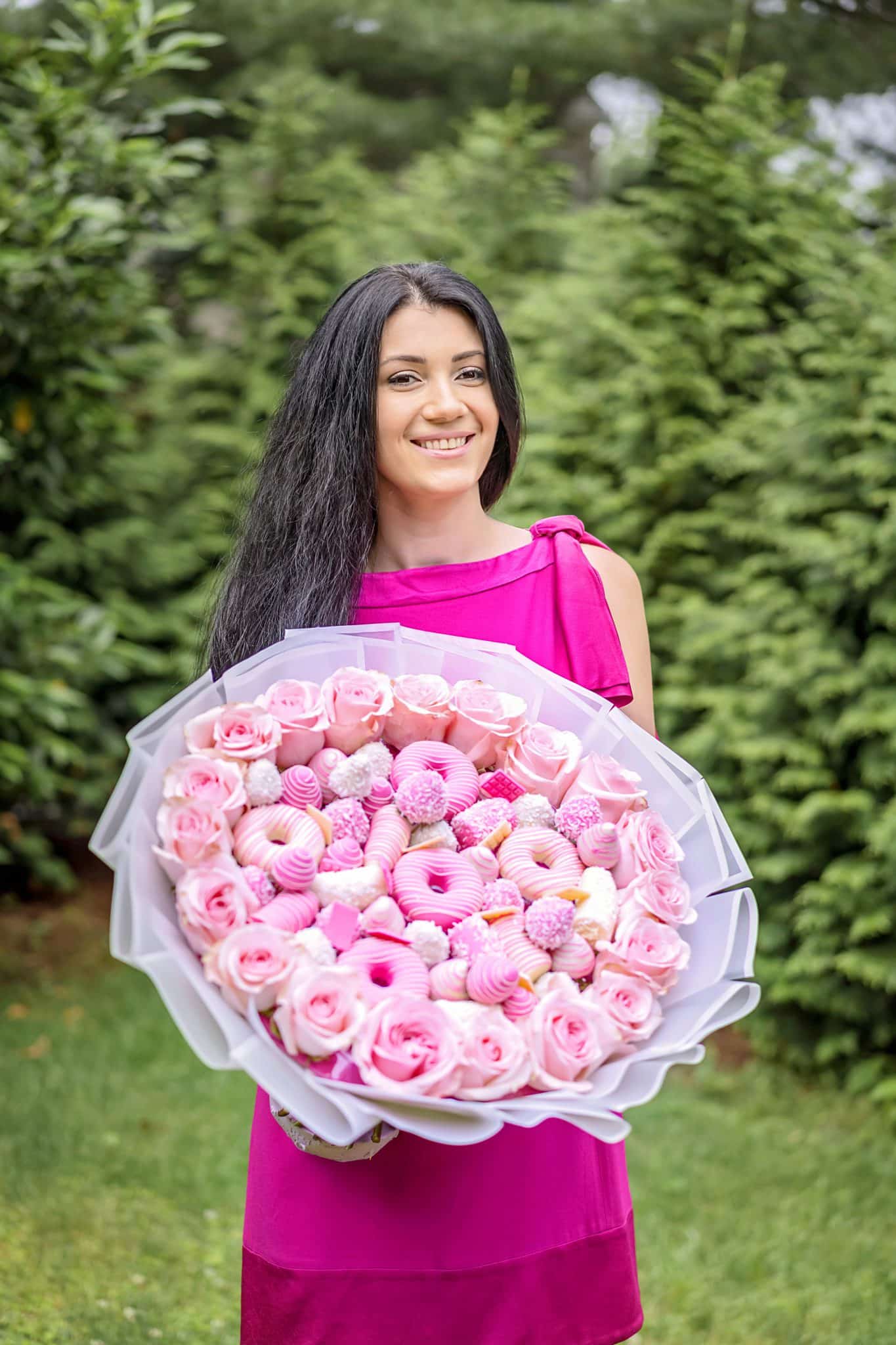 On our site you can choose from a variety of bouquets, boxes, envelopes, or order an individual bouquet. We invite you to choose an original and delicious gift. Feel free to call us. We will consider all your wishes and create for you a delicious bouquet that will convey all your love and care!